When I started my small business this year – freelance writing and editing – there was one common piece of advice across all the blogs I visited: start your own website.
You may be wondering why this whole website thing is such a big deal.
The Rise of the Gig Economy
Have you noticed how selecting to work in the gig economy is becoming more of valid career choice? The internet has a lot to do with that. You can work remotely, connecting with clients across the world.  Your pool of opportunity is global. And so is the competition.
This article in Entrepreneur discusses the rise of gig work, estimating that by 2020 gig workers will make up 43% of the workforce in the United states of America.
Standing Out with a Writers Website
So how do you stand out from the competition? This is where your website comes in.
You have your very own marketing platform.
Here's where you drop links to your work, and even if you don't have any published work in your niche yet, you can blog about the topics you'd like to write on. This is exactly what I did. It means when a potential client requests samples, you have a few articles to share. The bonus is that you're also building knowledge in your area of interest.
Blogging to Grow Your Freelance Writing Business
Your website could include a blog – the ideal practice ground for your craft. Writing for ten years doesn't necessarily make you a good writer. Ten years of deliberate practice? Well, that would make you pretty darn good. If you have nothing else on your website, include a blog to help keep your writing schedule on track.
Blogging makes business sense too. According to WordPress, over 400 million people read 20.9 billion pages each month. These numbers tell us people are actively reading blogs.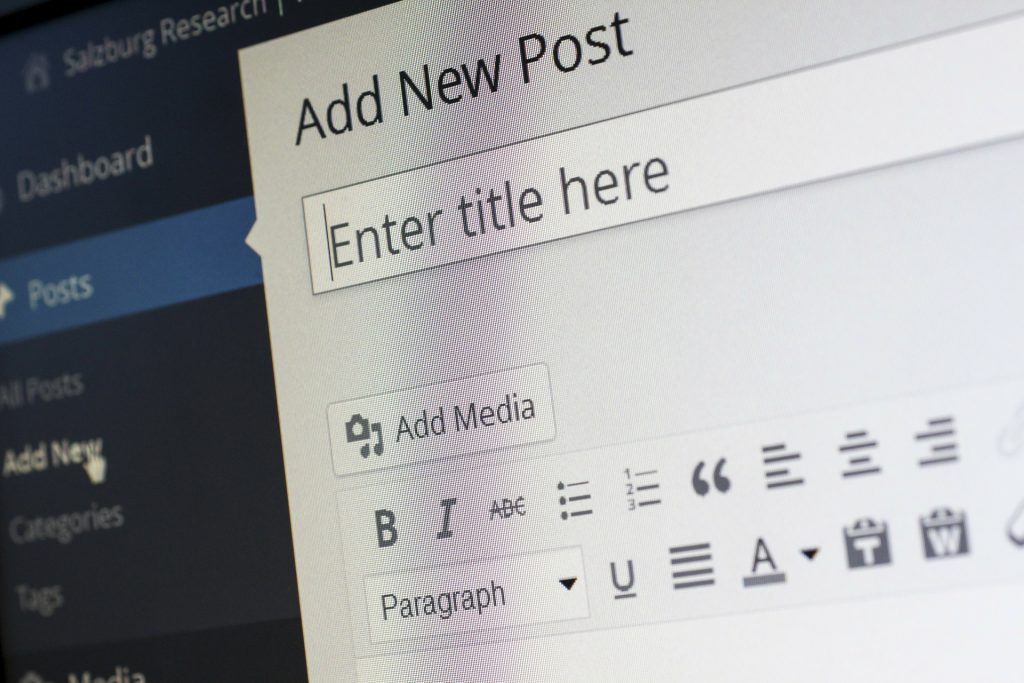 Still not convinced?
There are currently around 3.5 billion internet searches each day. Some of those searches are your potential freelance writing clients. Each post you publish helps improve the chances they'll find your site during their search.
No Tech Needed
But if the idea of getting techie and setting up a website makes your eyeballs itch, don't despair.
Back up to last year.
I had ZERO blogging or WordPress experience. I'd been writing professionally for more over a decade. And at my previous job, I'd uploaded press releases to a content management system.  That was the sum total of my self-publishing experience.
But blogging? Didn't that mean I'd have to know computer stuff?
Let me set your mind at ease.
It's not that hard to get your very own blog up and running. And if you do get stuck (and you will – we all do) there's almost a limitless number of resources online to help you get back on track.
Why should you take my word for it?
I've taught myself the WordPress basics and I'm not horrible at HTML either. This is in just few months. I've poured over tutorials, fought with plugins and spent hours agonising over how to select the best tools for my freelance business.
There's loads of articles to help you in your quest. In this post, I'll share some of the most helpful ones I've found during my own search.
Freelance Writer Resources
These sites are great resources and they cover the a wide range of the common challenges we encounter.
Once your blog is set up and you've started posting some content, make sure your site indexed with Google. Neil Patel shares how you can index your site here, and details the tactics he used to increase traffic to his blog. You want to learn the basics of SEO to ensure your site is visible to potential clients during online search.
Conclusion
Start experimenting today, and you'll improve as you go along. If you've never blogged before and you're scared to put yourself out there, that's normal too. It'll get better, and your confidence will grow the more you keep at it. Remember: with competence, comes confidence. Happy blogging!