We've all been there.
You're managing public relations for your organisation and you see a reputational risk brewing.
Do you issue comment proactively before it all spirals? How often should you release updates during the peak of a crisis?
It's your job to put together a detailed crisis communications plan to help guide your firm's response to these and other questions.
A plan that responds to media and public queries honestly (and promptly).
When a media risk hits, the last thing you want to be doing is drafting the logistics of your strategy.
In this post, we'll outline the tips to keep in mind when putting together your crisis communications plan. For some crises, there are requirements unique to that situation, e.g. in a natural disaster. This post touches on the basics of a general strategy.
In an article for the Entrepreneur, James F. Haggerty, writes that in each industry there are a set of possible crisis, and urges organisations to take stock of these and plan appropriately.
Keeping that in mind, let's look at the different actions you can take at varying stages of the crisis.
1.Before
By having early warning systems in place, you're able to identify potential risks before they become full-blown brand disasters.
Use early warning systems to identify potential risks before they become full-blown brand disasters.
Click To Tweet
To start, form relationships with key reporters and organisations in your niche. Nurturing relationships with media and industry organisations is a good practice in general, and in the case of a crisis it means you could be alerted to an issue when it first starts simmering.
In the age of social media, a tweet can launch a full-blown brand meltdown. Use social listening applications to monitor conversations about your firm. You should respond to users regardless of whether the conversation has negative or positive sentiment.
Hootsuite is one of the many free social listening tools you can find online. Simply identify a keyword and Hootsuite will create a stream with the latest results.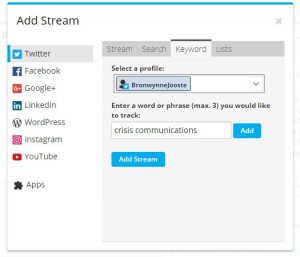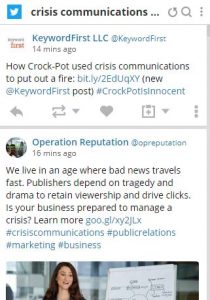 2. During
Your early warning system has flagged a major crisis approaching FAST.
This is when one of the most important aspects of your strategy kicks in – public response.
First things first:
Acknowledge the matter and take responsibility. A very brief comment on your social media channels –  possibly a press release depending on the scale of the story –  will do for now.
As an example of what not to do, we don't have to look further than United Airlines. A United States of America-based airline, United Airlines made headlines across the world last year when footage of their staff physically dragging a passenger off a flight emerged. SEM Rush discusses the incident and the airline's response in this article, highlighting the CEO's response:
"This is an upsetting event to all of us here at United. I apologize for having to re-accommodate these customers. Our team is moving with a sense of urgency to work with the authorities and conduct our own detailed review for what happened. We are also reaching out to this passenger to talk directly to him and further address and resolve this situation.
I'm sure this response was drafted with legal checking on off on each word. That's understandable too. But this is when PR needs to step in to push for some changes. A man was forcibly carried off a plan. You cannot use the word "re-accommodate".
Investigate
Once you've taken that first step, get to the bottom of the story. Arrange an internal briefing (via Skype if a physical meeting is not possible). If one is already planned, make sure you're there to capture the 5 W's and H. This is Journalism 101 and refers to the basic elements of every story: Where, What, Who, When, Why and How.
During these engagements, it's on you to stress that all communication must be honest and transparent. Often people who don't work in communications want to cover up a crisis. Anything to avoid admitting: "We've made a mistake." This is the wrong way to do things ethically and it is bad news for your company's reputation in the long-term. It's also much harder to manage a crisis communications plan when you're getting vague updates. Lobby for a transparent approach.  Honesty and maintaining your organisation's reputation are not competing priorities.
When it comes to crisis communications, honesty and maintaining your organisation's reputation are not competing priorities. Always lobby for a transparent approach.
Click To Tweet
Get as much detail as possible. Become an expert on the points that really matter.  
During 2017, I was managing media for a government unit responsible for the local agriculture sector. A country-wide illness broke out, killing hundreds of thousands of chickens. There were health concerns. Where chickens still safe to eat? Food security questions. How would the outbreak affect poultry prices?
Prior to this, I knew exactly ZERO about avian influenza. Over the course of this crisis, I learnt as much as I could, thanks to a great team of vets and a small dose of my own online research. This is doesn't mean you should spend all your time learning very technical aspects, but try to familiarise yourself with some of the basic technical stuff you might need to understand to help you communicate competently.
Choose a spokesperson
In most cases, that would be you, as the public relations manager. You could also have more than one, perhaps a senior executive working closely on the matter. I would recommend the CEO be fully briefed and the lead at all public briefings, but it is not practical for her to respond to a flood of media queries/interview requests.
Take action
The company investigation is over. The problem has been clearly identified. There's a detailed report, and a comprehensive action plan has been developed to address the weaknesses.
In 2016, it emerged that black guests on Airbnb, the home-sharing platform, were being racially profiled. The company acted quickly and commissioned a report to assess the scope of the problem. It was a genuine move to find a solution.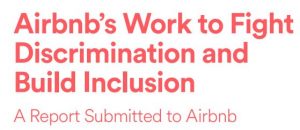 These facts will help shape your next move. In some cases, you might have to arrange a news conference. At this stage, senior management or your CEO, should be involved. You must make sure all executives at the presscon are fully briefed and prepared.
Think back to the BP oil spill in 2010, and then-CEO's Tony Hayward's response to the disaster (which claimed the lives of 11 people). Hayward told a reporter he wanted "my life back". He was slated and BP looked even worse.
Use WhatsApp to share instant updates
WhatsApp, or any instant messaging service, have two roles in crisis communications.
First:
You can add your colleagues who are working directly, and you have a space to get any updates as they happen. It could also be more efficient to drop any media queries you receive into this internal group.
Second:
Creating a WhatsApp group for journalists who are covering the crisis is a great line of communication. Use the platform to share voice updates when you're receiving new information. Setting the limitations of a group is a good idea. For instance, media queries can still be sent directly to you.
Shareable content
As we've discussed, brand's – their wins and their fails – often live on social media. Put together pieces of shareable content you can release through your social media feeds. For complex issues (like the earlier avian influenza example) it's a good idea to put together a Frequently Asked Questions (FAQ), you can send out and attach to press releases. In that same communications strategy, we developed a map showing the spread of the infection.
Be the first and most trusted source of information during all stages
By issuing constant updates, and being available for comment, your organisation becomes the primary source of information. Depending on the scope of the crisis, you could decide on daily or weekly updates.
3.After
Once the problem has been resolved, your monitoring doesn't come to an end. Continue to check internally for relevant updates. If you've released a report identifying interventions you plan to take, watch these closely and communicate when you've reached an important milestone.
You may find that your brand is able to emerge from the crisis – not without weakness – but strong enough to take heed of its flaws and tackle them head on. Which is the kind of accountability that real leadership demands.